The 2018 Winter Olympics remind us how exciting a travel destination Korea is.
South Korea has an enviable range of high octane urban, spectacular mountain, beach and countryside destinations, a rich history, culture and cuisine as well as a world-renowned pop culture that rank South Korea among the most unique places in Asia. Visit by land or by cruise ship; the Korean peninsula has several major ports and a long-established maritime lifestyle.
Here's a list of places you'll want to include on a trip to South Korea.
Pyeongchang
You may never have heard of Pyeongchang until it was designated host of the 2018 Winter games, but this winter resort area is a natural Winter Olympic host. Its catchy slogan is 'Happy 700 Pyeongchang', referring to the city's 700 meter (2300 foot) elevation in the Taeback mountain region east of the South Korean capital of Seoul.
Photo Credit
As you'd expect, Pyeongchang sees seasonal snow and low enough temperatures to sustain outdoor winter sports. Two resorts in the region attract skiers, boarders as well as off-season mountain hiking. They're the core of the winter games sites, which have also resulted in additional hotel and sports facilities.
Photo Credit
The Olympics brought other advances, too. A new high-speed (250 km/h or 155 mph) train now brings visitors from Seoul in less than an hour and a half. Don't spend all your time on the slopes in Pyeongchang. Take a break for your spiritual wellness at one of the area's notable and historic Buddhist temples.
Seoul
Seoul is the 4th most economically powerful city in the world, the hub of its global technology, electronics, and auto industry wealth. Like other large, wealthy Asian cities with extraordinary modernism, high-tech, high-rise Seoul can feel surreal to visitors. The center of K-pop (Korean pop music), entertainment and media, this is a city that never sleeps. (Top Photo Credit)
Photo Credit
Seoul is land-locked and surrounded by mountains. The city was established on the Han river 2000 years ago, and has been Korea's capital for over six centuries. Korea's west-coast port of Incheon is right next door; if your Asia cruise has a call there, you'll be well-positioned to do some 'Seoul searching'.
Photo Credit
Seoul's neighborhoods are landmark destinations in a whirlwind city. Among the skyscrapers, neon, miles of packed arcades and landmark hotels, you'll be immersed in the lifestyle of one of the largest urban centers in the world, Korean style: chic drinks and dinners as well as upscale shopping for local and international brands.
But don't miss the historic and authentic side of Korea in Seoul. Artisan and local craft markets, the Joseon Dynasty palace complexes of traditional architecture, local festivals and religious ceremonies with celebrants in traditional dress are distinctly Korean experiences. The area is home to 5 UNESCO World Heritage sites as well its international design award-winning modern architecture.
Jeju Island
Formed by volcanic eruptions over 2 million years ago, Jeju island is the largest island off the Korean peninsula, 85 km (50 miles) south of the peninsula in the waters between Korea and Japan. Jeju's lava base limited early agriculture and resulted in a unique and pristine ecology that set Jeju apart from anywhere else on earth.
Photo Credit
It also created breathtaking lava formations including one of the biggest lava tubes in the world, nearly 9 km (over 5 miles) long and close to a hundred feet high and wide. Visitors are in awe of the full range of cave architecture like columns, benches, bridges and more. The 7.6 meter (25 foot) column of lava inside is the largest known in the world. The caves are home to exceptional wildlife, including a 30,000 strong colony of bats.
Photo Credit
Jeju is an increasingly popular resort island, with a sub-tropical, humid climate warmer than the rest of Korea and some stunning beaches. The island, historically isolated from the mainland, also has its own cultural, clothing, architectural and language traditions.
Busan
South Korea's second biggest city, on the south-east coast of the peninsula, is also the country's largest port. Many Asian cruises call at Busan. Like Seoul, it's a fascinating combination of history and tradition on the one hand, and eye-popping ultra-modern urban lifestyle on the other. Shop til you drop at the world's largest department store, and take a wellness break at one of the city's dozens of traditional spas using natural-sourced spring water.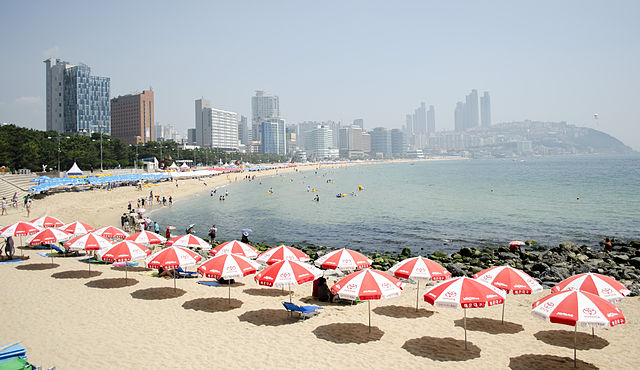 Photo Credit
Compared to Seoul, Busan is blessed with a warmer climate, beaches, and a maritime lifestyle including a renowned fish market, and signature seafood cuisine. Surrounding mountains provide cool air and magnificent vistas over the sea. Many Korean temples are at the tops of mountain hikes, so don't miss one spectacular exception, the Haedong Yonggung Temple on Busan's coast overlooking the Sea of Japan.
Photo Credit
The Demilitarized Zone (DMZ)
The DMZ is a 4 km (2 ½ mile) wide no man's land between the two Koreas that spans the entire peninsula 250 km (150 miles) from sea to sea. The DMZ is a very real reminder of the conflict between the two Koreas that remains unresolved today.
Don't let the name mislead you. It's called 'demilitarized', but Korea's DMZ is actually one of the most heavily armed, land-mined, barricaded and patrolled regions of the world. Tours into the DMZ bring the history of the Cold War conflict that split this country into high relief. It also soberly memorializes the lives lost and families separated as a result of the division of the country. Absent human activity in the area, several formerly endangered species have re-established footholds in the DMZ. So there's that small consolation. As an experience of military tourism and reminder of the repercussions of the Cold War that still exist today, Korea's DMZ is unlike anywhere else on the planet.
Photo Credit
The Olympic flame only burns in Korea during the games, but we hope the 2018 Winter Olympics shine a permanent spotlight on South Korea as one of Asia's most unique – and unmissable – travel destinations.
Start your Trip!
Copyright BestTrip.TV/Influence Entertainment Group Inc or Rights Holder. All rights reserved. You are welcome to share this material from this page, but it may not be published, broadcast, rewritten or redistributed.
France's largest port town, on the magical Mediterranean, has been transformed in recent years.
You'll still find the charms of its Old Port, the oldest neighborhood in France, the maritime culture... but there's been a wave of revitalization and stunning builds that make this seaside city spectacular.
On our latest visit, we fell in love with Marseille, and here are at least 3 reasons we think you'll love it too.
Start your Trip!
October 2017 saw the birth of a new destination for modern art lovers. The nearly $100 million Remai Modern art museum at River Landing in Saskatoon is an ambitious project that puts this Saskatchewan city on the map for culture fans.
And maybe it's OK to be ambitious when your collection includes 8000 works of 'the art of our time', including the world's largest collection of Picasso linocuts, and 23 of that iconic and most recognizable modern artist's ceramic works.
Saskatoon entrepreneur and philanthropist Ellen Remai, for whom the museum is named, donated her collection of 400 Picasso linocuts – valued at $20 million – as well as $16 million towards construction. She was joined by another Saskatchewan-born philanthropist and collector Frederick Mulder, who donated the Picasso ceramics. Most of the rest of the collection was entrusted to the new museum by the city's former Mendel Art Gallery.
Remai and the Frank and Ellen Remai Foundation made additional donations, now totaling over a hundred million dollars, one of the largest donations to the arts in Canadian history. The donations will ensure 30 years of funding for international exhibitions, plus a million dollars annually for a quarter of a century towards acquisitions, as well as dedicated funds to match other donations up to another million dollars annually.
(Photos by Adrien Williams)
There's no doubt the Remai Modern reshapes this Canadian Prairie city. The striking building cantilevered at the river side likely gives you a sense of déjà vu. That might be because it pays homage to the 20th century's most iconic modern North American architect, Frank Lloyd Wright, and his masterpiece Fallingwater.
Its 130,000 square feet on four levels is a treasure worthy of the art and the community, with a balcony overlooking the river, a show-stopping interior staircase, magnificent galleries, terraces and a seasonal roof top. The space is designed for community and public events as much as to showcase the art inside. The region's First Nations art is also home in the museum, which includes inscriptions in six indigenous and Metis languages.
Finding new ways to redefine how museums engage the community in the 21st century has also lead to ground-breaking programs at Remai Modern.
Intergenerational artmaking programs happen every Sunday; a Modern Art Caravan brings art supplies and the opportunity to create to community festivals and events; programs facilitate art in schools and life-long learning, creative communities in First Nations, support young and emerging artists, and ensure the museum's collections are accessible with admission-free days throughout the year.
The Remai Modern is a direction-setting art museum – for Saskatoon as a destination, for the arts community in North America, and all of us who should put the Remai Modern on our travel bucket lists.
Start your Trip!
Copyright BestTrip.TV/Influence Entertainment Group Inc or Rights Holder. All rights reserved. You are welcome to share this material from this page, but it may not be published, broadcast, rewritten or redistributed
A lot of people's favorite TV viewing these days involves tartans and time travel against a backdrop of essential Scottish scenery: misty lochs, craggy mountains, and castles that are among the most iconic and recognized in the world.
Fiction meets historic fact at Scotland's castles. An estimated 3000 castles were once part of the landscape of Scotland. That's nearly one castle every 100 square miles.
Many ancient castles still remain to remind us of Scotland's turbulent history of powerful men in kilts wielding broadswords, and women who were just as tough. You can tap into your own inner highlander at these must-see Scottish castles.
Edinburgh Castle
Imposing and massive, Edinburgh Castle looms from its perch on an outcropping of volcanic rock 260 feet (80 m) above the Scottish capital. Scotland's most urban castle dominates the city skyline spectacularly. As the Eiffel Tower is the symbol of Paris, Edinburgh Castle is the symbol of the Scottish capital. It's the most-visited attraction in Scotland.
(Photo credit)
Castle Rock, with such obvious defensive advantages of the sheer cliffs on three sides, has been occupied since the Iron Age. A royal castle has stood there since the 1100's. Edinburgh castle is magnificent, seeming to grow out of the volcanic rock. But it's no fairy tale. Researchers have identified 26 attacks on the fortress in its history, making it one of the most besieged places in the world.
(Photo Credit)
Edinburgh Castle retains its military and regal connections, housing the Scottish National War Memorial and National War Museum, as well as the Scottish regalia, known as the Honours of Scotland: royal crown, sword and scepter.
The only approach to Edinburgh Castle is from the sloping side. It's a scenic walk up the Royal Mile through Edinburgh's Old Town to the castle. Don't miss the daily (except Sunday) firing of the 'One O'Clock Gun'.
Three special times of the year to visit Edinburgh Castle include: The Edinburgh Military Tattoo in August, a spell-binding and evocative series of performances of fife and drum and Scottish regiments in traditional regalia; and the fireworks marking the end of the summer Edinburgh Festival as well as Hogmanay, the Scottish New Year.
Eilean Donan Castle
This is one of the most photographed and filmed castles in the world. (And one of the most popular backdrops to wedding photos in the U.K.)
Where Edinburgh Castle's defenses came from the cliffs surrounding it, Eilean Donan's protection was water. Eilean Donan means 'the island of Donnán'. (Top Photo Credit). It's a small tidal island at the point where three great sea lochs meet in the western Highlands of Scotland.
(Photo Credit)
And while romantic-looking now, there's evidence the island was fortified from the Iron Age. The current castle was restored from ruins in the early 1900's, when a footbridge connected the island to the mainland. Until then, it was only water accessible, and a clan stronghold that was repeatedly attacked.
(Photo Credit)
Don't miss among the rare artifacts on display a sword said to have been wielded at the fateful battle of Culloden.
A Gaelic inscription above the door reads: "As long as there is a MacRae inside, there will never be a Fraser outside", referring to a bond of kinship between the two clans, similar to one which adorned the Fraser clan's Beaufort Castle. The MacRae clan are still Constables of Eilean Donan Castle today.
Eilean Donan Castle is even more spectacular in real life than in the many photos and films that feature it, where the magnificent Highland landscape almost dwarfs the castle. When you are there in person, it is much larger and imposing than it seems in pictures. Standing on the footbridge with winds from the lochs swirling around you, is the moment you'll say to yourself, 'I've arrived in the Highlands'.
Dunnottar Castle
Even more wild and dramatic is Dunnottar Castle on top of an immense rocky cliff over the north east coast of Scotland. The ruins of the castle are surrounded by steep cliffs that drop 160 feet (50m) into the North Sea below. Only a narrow strip of land with a steep path joins the headland to the mainland.
(Photo Credit)
Given the castle's strategic location and impregnable position, it's no wonder the site has been fortified for over 2000 years. 'Dun' is the word for 'fort' in the early Pict's language. This haunting location was the home of the Keiths and Earls Marischal, once one of the most powerful families in Scotland. When Oliver Cromwell's army invaded Scotland in the 1600's, the Earl Marischal, as Marischal of Scotland, was responsible for the Honours of Scotland (the Crown Jewels), and had them hidden from Cromwell at Dunnottar Castle. (Brought there by a woman named Katherine Drummond hidden in bags of wool.)
Less than a century later, another Earl lost his titles participating in the Jacobite rebellion, and the castle declined until its restoration 300 years later.
Romantic, dramatic, and evocative, Scotland's castles aren't just instagrammers' dreams. A visit to a Scottish castle is your own version of time travel and a way to connect to the essence of this fabled culture.
Start your Trip!
Copyright BestTrip.TV/Influence Entertainment Group Inc or Rights Holder. All rights reserved. You are welcome to share this material from this page, but it may not be published, broadcast, rewritten or redistributed.
Is Oktoberfest in your future? In Munich or a festival closer to home, you won't be fully into the spirit of the annual harvest celebration of Gemutlichkeit (fellowship), beer, pretzels and Wurst unless you also deck yourself in traditional Bavarian costume.
The good news is: these days it's easy to rock a dirndl for women, or lederhosen for men... or nowadays, women too!
We get the goods on the traditional and the latest trends in bust-enhancing, leg-revealing wardrobes for everyone.
Watch this video to learn how to 'Get your Tracht on!' as they say, and celebrate Oktoberfest in style.
Prost!
Copyright BestTrip.TV/Influence Entertainment Group Inc or Rights Holder. All rights reserved. You are welcome to share this material from this page, but it may not be published, broadcast, rewritten or redistributed.
You're probably thinking somewhere in the Wild West. Good for you if you guessed the Wild North-West.
We walked off our Regent Seven Seas cruise to Alaska and felt like we were walking back in time. Specifically, to 1896 when gold was found in the Klondike in Canada's Yukon.
There are a hundred preserved Gold Rush era buildings in downtown Skagway, Alaska, complete with wooden boardwalks and costumed 'Good Time Girls' in the formerly infamous Red Onion saloon.
Skagway, in the Alaska Panhandle on the Pacific coast, provided the most direct route for the masses of aspiring gold miners to reach the Klondike. With its deepwater port, large ships from the West Coast of the US or Canada could dock in Skagway to disgorge their loads of miners, pack animals and supplies. From there, it got harder: a grueling, 500-mile trek to the gold fields in Canada.
Overnight, the city swelled with prospectors and shops and services for prospectors, styled after other towns in the North American West with false-front buildings opening onto wooden boardwalks lining a grid of broad streets. The population ballooned, with 8000 people in town and 30,000 souls in the greater Skagway area.
It was the largest city in Alaska, where only the strong and the lucky survived. And it seemed every swindler, con artist and criminal in the land converged on Skagway. For the next two years, Skagway was lawless, and Canada's North West Mounted Police called it 'little better than a hell on earth'.
Like every boom, the bust must come. The dreams of striking it rich had started to fade just a year later and by 1900 – just when a railway to the Canadian border had been completed – it was all over. (That top image is the train station that's still used today.) The same year, Skagway was incorporated as the first city in Alaska.
Skagway might have been destined to become a ghost town, reincorporated by Nature like other stops along the way to the gold fields that have now disappeared into the forests that have grown back where towns once stood. But it survived – with its well-preserved and colorful historic downtown and just 1000 citizens, only a fraction of its Gold Rush heyday. Survived in both legend and reality.
Skagway has been immortalized in literature like Jack London's 'The Call of the Wild' and even as the set of the John Wayne film 'North to Alaska'.
And, as one of the few Alaskan panhandle towns connected to the road system East into the Yukon and South into British Columbia and the Lower 48, it's a vital stop on Alaska's ferry system: the Alaska Marine Highway.
The deepwater port that unloaded hapless prospectors now accommodates cruise ships that bring about a million cruise passengers every year to this town that now homes just 1000 citizens.
There's no gold left in those distant Yukon hills, but a walk back in time to the Wild North-West in Skagway is a pretty rich cruise experience.
Start your Trip!
Copyright BestTrip.TV/Influence Entertainment Group Inc or Rights Holder. All rights reserved. You are welcome to share this material from this page, but it may not be published, broadcast, rewritten or redistributed.
American Writers Museum is the newest addition to the city's Cultural Mile. It is the first and only museum of its kind celebrating the US literary scene and the men and women who captured and shaped American culture, point of view, history, lifestyle and language through pen and ink.
From Mark Twain to Harper Lee, John Steinbeck to Jack Kerouac, Dorothy Parker to Dr. Seuss. Authors, poets, songwriters, novelists from the earliest moments of American history articulated a unique American Voice and created the literary masterpieces that reflected generations of America to itself and the world - even its children.
Whether you're a bookworm or aspiring author, or even at the age you're still learning the alphabet, the museum's galleries, interactive exhibits, educational programs, and special events will delight you. The interactive, high-tech museum showcases the personal stories, creative processes and literary works of America's diverse range of wordsmiths.
You can explore many of America's great writers' hometowns in Writers Hall. The American Writers Museum has collaborated with dozens of authors' homes and museums around the U.S. These are now American Writers Museum Affiliates that will support the museum with author-specific knowledge and expertise, and foster an exchange of ideas and experiences to support the preservation and celebration of America's literary history across the country.
How many American writers do you know? And how do you define 'writer'? In a Nation of Writers you can learn about and celebrate authors who are emblematic of a unique American Voice, across history, genre, and mediums, from poets to sportswriters.
How do you write the 'Great American Novel' or pen a song that moves a generation? Exhibits de-mystify famed writers' works and methodologies and invite you to practice your own verbal creativity with games and other immersive experiences.
The Chicago Gallery delves into the great writers, literary influencers, characters, and groups that shaped the city's unique literary tradition. And Readers Hall hosts films, talks, readings, workshops, and author signings to school groups, members, and a broad range of audiences.
You won't want just a single visit to Chicago and this new landmark on its rich cultural scene.
Rotating exhibits will keep this celebration of the written word fresh. One of the museum's opening exhibits is The Kerouac Scroll. The writer who brought the 60's beat generation to life in the modern classic On the Road, Jack Kerouac reportedly typed the 120-foot paper scroll in three weeks, after years of planning and early drafts. It's a story not just of the creation of the work, but a symbol of the 60's flower children's characteristic rejection of societal norms.
If you love the written word, you'll love visiting Chicago's new American Writers Museum - and hopefully even be inspired to put pen to paper yourself.
Start your Trip!
Copyright BestTrip.TV/Influence Entertainment Group Inc or Rights Holder. All rights reserved. You are welcome to share this material from this page, but it may not be published, broadcast, rewritten or redistributed.
Dust off your fringed vest and tie-dye T-shirt.
It's been 50 years since 100,000 young people converged on San Francisco in the summer of 1967. The celebration of 1960's counterculture music, fashion, art and anti-establishment rebellion in hippy Haight-Ashbury neighborhood that year became the epicenter of the cultural phenomenon that became known as the Summer of Love.
Photo Credit
The peace and love code of the 'beat generation' echoed the psychedelic rock ballads seizing the airwaves. The song 'San Francisco (Be Sure to Wear Flowers in Your Hair)' became a hit that year, and local Haight bands like the Grateful Dead, Jefferson Airplane and Janis Joplin joined in the utopian experiment and gave it a celebrity face. They provided the soundtrack of the social revolution that spread in popularity across America and around the world and cemented San Francisco's Haight Ashbury in counterculture history.
Photo Credit
For the beat generation, it was about more than just the Sex, Drugs and Rock 'n' Roll. They were the fuel for the questioning of authority, and a search for awareness, social justice, equality, civil rights, sexual liberation, freedom, anti-materialism and environmentalism that still resonates for us today.
There are still hippies in the neighborhood, and their sons and daughters fly the flag of the generation that followed Timothy Leary's call to 'Turn on, Tune in, Drop out'.
Photo Credit
The Summer of Love never left San Francisco, where the spirit of openness and innovation it called for lives on ironically – or inevitably? – next to the extraordinary wealth and full-throttle capitalism of nearby Silicon Valley.
Haight-Ashbury is in the process of receiving city landmark status recognizing its significance during the counterculture movement of the 1960's as the epicenter for hippies and the anti-establishment lifestyle.
Photo Credit
The neighborhood and the entire city are celebrating the 50th anniversary of the transformative Summer of Love with a year-long calendar: exhibitions, lively festivals, special events and music and dance performances looking back at the summer of 1967 and exploring what that period meant then and now. Plus a range of service and volunteerism events inspired by the original Summer of Love.
Photo Credit
Check out San Francisco Travel's special website, www.summeroflove2017.com, for a guide to the whole groovy scene, plus tours that follow the footsteps of great musicians like Jerry Garcia, Janis Joplin and Jimi Hendrix.
Some highlight exhibitions and events include: (Top Photo Credit)
Dec. 9, 2016-Fall 2017 Monterey Regional Airport: "Feeling Groovy," Art at the Airport
April 8-Aug. 20, 2017 de Young Museum; Summer of Love: Art, Fashion and Rock & Roll
April 26-Aug. 27, 2017 "Summer of Love: Jimi Hendrix" at the Museum of the African Diaspora
May 12-Sept. 10, 2017 California Historical Society; "On the Road to the Summer of Love"
June 24-Oct. 1, 2017 Asian Art Museum: Flower Power
July 2017-Sept 2017 San Francisco Public Library: 50th Anniversary of Love and Haight
June 8-Aug. 10, 2017 Psychedelic Soul: Black Cultural Awakening during the Summer of Love in San Francisco, 1965-1969
July 27-29, 2017 Revisiting the Summer of Love, Rethinking the Counterculture: A Conference on the 50th Anniversary of the Summer of Love
Photo Credit
Load up your hand-painted micro-bus (or book a flight) to re-live the Summer of Love this year, but don't forget, 'if you're going to San Francisco, be sure to wear some flowers in your hair'. What a trip!
Copyright BestTrip.TV/Influence Entertainment Group Inc or Rights Holder. All rights reserved. You are welcome to share this material from this page, but it may not be published, broadcast, rewritten or redistributed.
Most of the time, breaking an historic religious icon does not turn out well. But when workers moving a large and very old but otherwise unremarkable plaster statue of Buddha in Bangkok in 1955 dropped their load, they got lucky. The accident revealed an amazing secret: the plaster with modest inlaid glass decoration was a decoy shell concealing the world's largest solid gold Buddha.
By Lynn Elmhirst, Producer/ Host, BestTrip.TV
Hidden in Plain Sight
The design of the Buddha suggests it dates to the 13th or 14th centuries. It's believed when dangerous times were at hand during Burmese invasions in the 1700's, the solid gold statue was plastered over to cleverly hide the magnificent religious treasure in plain sight. In the confusion, dynastic changes, and moves that followed, the Golden Buddha's secret was lost to time. And so it sat under a simple open air roof in the unremarkable Bangkok temple Wat Traimit for hundreds of years – until it was dropped moving it to an indoor location.
Rather than hiding this phenomenal – and phenomenally valuable – discovery, temple officials have kept the Golden Buddha available for public worship at the temple. In 2010, they even opened a new, gold-leaf trimmed chapel to house this priceless treasure.
All photos: BestTrip.TV
That put Wat Traimit at the top of our film crew's must-visit list among the 400 temples in Thailand's capital city. Gold features prominently in Thailand's vivid national palette and design, but being face to face with the world's largest solid gold Buddha is heart-stopping. In ways we didn't expect.
Record Breaking – but Humble
It weighs 5.5 tons. And it's about 83% pure gold. That makes the gold in the statue alone worth about $250 million. The Golden Buddha's seated figure rises 15 feet above kneeling worshippers.
On arrival at the temple, you climb 4 stories of white marble steps leading to the chapel perched at the top overlooking the Bangkok skyline. Once inside, you might expect bristling guards, high tech security, crowds marched past with barely time to take a quick pic. But for a treasure of its worth and historic significance, the Golden Buddha's existence is almost humble.
The author (left) at Wat Traimit. No bare shoulders, no bare knees, and shoes off. Respecting Thai temple etiquette.
The marble and gold leafed chapel sounds extravagant, but it's quite restrained and no more spectacular than many other temple structures in Thailand. The Golden Buddha may be a tourist attraction, but not a tourist trap. Monks, local worshippers and visitors mingle. Instead of a vast hall to maximize visitor numbers (and revenue), the massive statue occupies a small room.
For visitors, that intensifies the experience. The deep reddish gold almost pulses in the way it catches dim light and warms the nearby cool white marble walls. Only a couple of dozen visitors and worshippers are able to fit inside the chapel at any given time. Worshippers place offerings and visitors can join them on a single carpet only a few feet in front of the Buddha.
It may be solid gold, but the temple monks and fellow worshippers interact with the Golden Buddha as they would any other neighborhood temple Buddha.
That might be the most remarkable part of our visit to Wat Traimit. We were expecting to be – as one of our production team said – 'wowed by the bling'. Instead, we experienced a space of beauty and almost simple serenity. As if the Golden Buddha were still hiding behind its plaster mask. Simplicity and serenity, mainstays of Buddhist practice, in the presence of what might be the most valuable and storied piece of solid gold in existence, might be the real treasure of the statue.
Start your Trip!
Copyright BestTrip.TV/Influence Entertainment Group Inc or Rights Holder. All rights reserved. You are welcome to share this material from this page, but it may not be published, broadcast, rewritten or redistributed.
It may not be the most joyful travel experience you have in Northern France, but for families of veterans, and any grateful citizen, a visit to the World War 2 Landing Beaches in Normandy creates a lifetime of memories.
BestTrip.TV journeyed to the shores on a stormy English Channel to see the remnants of battlefield sites, moving war monuments and memorials to the brave souls from the UK, the US, and Canada who stormed those beaches in a last-ditch effort to free Europe and end the war.
Copyright BestTrip.TV/Influence Entertainment Group Inc or Rights Holder. All rights reserved. You are welcome to share this material from this page, but it may not be published, broadcast, rewritten or redistributed.
The landmark, modernist Elbphilharmonie, designed by 'starchitects' Herzog & deMeuron, has opened its doors at last this month. The complex adds three world-class concert halls, a hotel, and a public area with a panoramic view to the city famously associated with the music of Mahler, Brahms and the Beatles.
Hamburg is Europe's second largest port. It handles large, ocean-going ships, so it's considered a seaport, even though it's nearly 70 miles (110 km) inland from the North Sea on the Elbe River at its confluence with 2 other rivers.
The Elbphilharmonie is in a unique location in Hamburg's historic port. It's part of Europe's largest inner-city urban revitalization project, in direct proximity to the Speicherstadt warehouse district UNESCO World Heritage site.
In location, in design, and in function, the Elbphilharmonie serves as a symbol of the city's past, present and its future.
Spectacular Architecture
The renowned Swiss architecture firm Herzog & deMeuron designed the exciting structure to perch on top of a brick warehouse that used to store tea, tobacco and cocoa arriving from abroad. 1700 reinforced concrete piles support the modernist, glass structure, whose wave-like roofline rises above the water of the port that surrounds it on three sides.
The Plaza is the area that links the warehouse and the new structure, and it's the central meeting place in the Elbphilharmonie. There's a viewing platform here that's open to the public. Even getting to it is an experience: an 82-metre-long (over 250 foot-long) curved escalator transports visitors through the building. Once you get there, you have a stunning panoramic view over the city and port of Hamburg.
The heart of the Elbphilharmonie is the spectacular, Grand Concert Hall. 2,100 seats are arranged around a centrally located stage, designed to remind you of visits to terraced vineyards. Amazingly, no member of the audience is seated more than 30 metres (about a hundred feet) from the conductor. Being so unusually close to the action turns this new acoustic space into a place of unforgettable musical encounters.
In order to achieve optimum acoustics, the architects developed a special wall and roof structure together with internationally renowned acoustician Yasuhisa Toyota. 10,000 individually shaped fibre panels cut with millimetre precision ensure targeted sound distribution that reaches you in every corner. For the Grand Hall, the German organ builder Klais developed an extraordinary concert hall organ with 4,765 pipes that are located in, next to and even behind the audience stands.
A Boundless Music Experience
In addition to the one-of-a-kind Grand Hall, the complex includes the acoustically outstanding, wood paneled Recital Hall and The 'Kaistudios', the Elbphilharmonie's interactive music education area for people of all ages. The 'Kaistudios' are also home to the new 'Elbphilharmonie World of Instruments': diverse workshops in which children and adults can try out instruments from all over the world.
Are you thinking this all sounds fantastic, but you really aren't a fan of classical music? Don't fear: there's a line up of concerts and performances that not only include orchestral and operatic performances with the best orchestras in the world; piano, string quartet and German 'lieder'; but also world music, popular, and even electronic music. Music for every fan, and a reflection of a city that not only supported famous composers, but also has had a world-celebrated club scene since the earliest days of the Fab Four.
They call it 'a perfect symbiosis of architecture and music'. We agree. The new Elbphilharmonie highlights Hamburg on the map of must-see global destinations for lovers of music and celebrated modern design.
Start your Trip!
Copyright BestTrip.TV/Influence Entertainment Group Inc or Rights Holder. All rights reserved. You are welcome to share this material from this page, but it may not be published, broadcast, rewritten or redistributed.
Islay's delicious single malts.
read more
The history behind Eilean Donan, one of the most famous and beautiful castles in Scotland
read more
Its beaches are spectacular and its rich culture is the best you will find from here all the way to Rio de Janeiro in Brazil. Its gastronomy sector is rivaled only by that of Peru in all of the Americas. Yeah...it is an interesting place to visit.
read more
The last time I was in the Czech Republic was about 18 years ago. I travelled by train, backpacking through Europe with my sister. We stayed at campgrounds, slept in a tent, and cooked our meals over a camp stove. We wandered endlessly around Prague and fell in love with the city; it made our "Top 10" list of favourite European cities and left me with a longing to return.
I was fortunate enough to have that wish fulfilled. In June I travelled with a group of my colleagues to Prague and throughout the Czech Republic. This time I traveled by motor coach, slept in hotels and had my meals cooked for me and, I fell in love all over again!
I travelled with Transat Holidays on a shortened version of their Unesco Treasures tour. The flight was on Air Transat's new seasonal service from Toronto to Prague. A direct flight with a stop in Montreal on departure and return, making for a bit of a longer journey but still, it's always a bonus not to have to change planes.
Prague certainly did not disappoint me the 2nd time around. It remains one of the great cities, steeped in history, and yet alive and bursting with energy. There's St. Charles Bridge, spanning the Vltava and lined with a procession of saints; silent witnesses to your crossing. The famous Astronomical clock at the Old Town Hall still marks the passage of time, and has since the fifteenth century. Prague is a city for walking and strolling and meandering; and at every turn there is something new, from Gothic cathedrals to baroque palaces, Prague Castle, and a myriad of churches, towers & chapels…. all a feast for the eyes. Finally, at the end of the day your weary feet can take you to the Old Town Square, a great place to sit and watch the world go by and sample some of the world famous local Czech beer!
There is of course much more to the Czech Republic than just Prague, and the Unesco Treasures tour gives you a wonderful look at the rest of the country. Departing the city we travelled throughout visiting several of the World Heritage sites.
Cesky Krumlov- an extremely picturesque and neatly preserved medieval town cradled in a deep valley in southern Bohemia. The town is dominated by Krumlov Castle and filled with tiny shops, outdoor cafes, cobblestone streets and a sleepy market square. A serene and peaceful place to spend the day.
Telc- the perfect example of Renaissance beauty. The town was devastated by fire in 1530 but completely rebuilt by master Italian craftsmen and now features a square lined with pastel coloured houses, built architecturally uniform. A photographer's delight.
Trebic- known for St. Procopius Basilica; but also for its Jewish quarter. The Jewish community here was completely exterminated at the end of WWII; but over 100 buildings have been preserved. There still lingers the atmosphere of the ghetto, echoes of the past.
The Lednice-Valtice complex- known as the "The Garden of Europe". A vast park comprised of rare trees, lakes, and a profusion of flowers. The Lichtenstein dynasty created a summer playground here for the nobility; complete with temples, castles and a 60 metre minaret from which you can view the entire landscape.
Kutna Hora- one of the largest producers of silver from the 13th to 18ht centuries, is famous for its cathedral dedicated to the patron saint of miners, St Barbara, and for the Italian Court which housed the royal mint.
Sedlec- the oldest Gothic cathedral in central Europe, the Cathedral of the Assumption of the Virgin Mary can be found here, as part of the Cistercian monastery. Even more fascinating is the ossuary created in the chapel from the monastery's extensive cemetery. The ossuary is the final resting place for the bones of over forty thousand people; transformed into pyramids, a chandelier, and a coat of arms. The souls of the dead linger in the shadows.
The Czech Republic has much history to offer, but also much beauty. Traversing the countryside you are treated to tracts of wheat fields as far as the eye can see; lakes and streams, fields blooming with white poppies and sunflowers. Moravia is home to vineyards, famous for producing white wines. Southern Bohemia is populated by dense forest, wooded hills, and tiny villages. The beauty of the landscape gives you a feeling of peaceful serenity.
The Unesco Treasures tour was a wonderful chance to re-visit the Czech Republic and see it again for the 1st time. I recommend anyone who is considering future travels to Eastern Europe to include this amazing destination in their itinerary. You will not be disappointed!
Please contact me at 519.245.2201 CWT Blowes Travel Strathroy for assistance in planning your European Adventure.
- Monica Purdon
Get the Travel Tips
Get The Savvy Traveler Newsletter
Things we blog about
Places we've blogged about